No business can survive without a marketing strategy. And one of the most important aspects of any marketing strategy is print materials. If you're not sure what type of print material to use to increase sales, don't worry! This blog post will discuss three great print materials for increasing sales. Keep reading to learn more!
Print marketing materials that still win over digital
There are a variety of print marketing materials you can use to increase sales, including:
Sales Sheets or One-Sheets
Sales sheets are single pages that contain key information about your product or service, including pricing, features, and benefits. They're designed to be used as leave-behinds after sales meetings or as direct mailers.
Brochures
Brochures are multi-page documents that provide more detailed information about your business, products, or services. They're often used as handouts at trade shows or conventions or mailed directly to potential customers.
Catalogs
Catalogs are similar to brochures but usually contain complete product information, including descriptions, photos, and pricing. They're often used as mailers or at trade shows and events.
Flyers
Flyers are single or multi-page documents that are designed to be posted or distributed in public places, such as on community bulletin boards or handed out in high-traffic areas.
Postcards
Postcards are direct mail that can be used to promote sales, coupons, or special events. They're typically less expensive to produce and send than other types of direct mail, making them a cost-effective option for small businesses.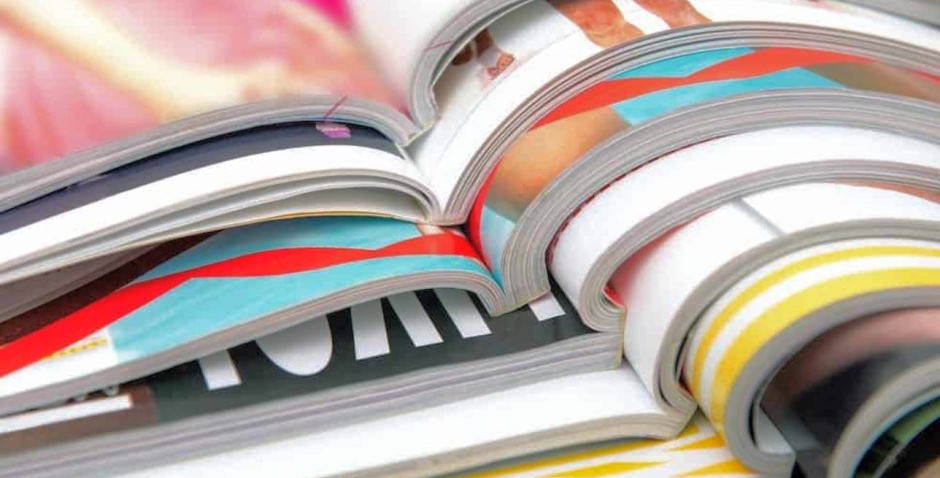 Door Hangers
Door hangers are a type of direct mail that can be hung on doorknobs as a way to deliver your marketing message directly to potential customers. They're often used to promote special offers or coupons.
Window Clings
Window clings are a type of print ad that can be applied to the inside of store windows. They're often used to promote sales, events, or seasonal specials.
Banners
Banners are a type of print ad that can be hung in public places, such as on the side of a building or at the entrance to an event. They're typically large and can be printed on various materials, including vinyl, fabric, or mesh.
Yard Signs
Yard signs are a type of print ad that can be placed in yards or on other outdoor surfaces, such as fences or sidewalks. They're often used to promote political candidates, yard sales, or special events.
Vehicle Graphics
Vehicle graphics are mobile advertising that can be applied to cars, trucks, vans, or other types of vehicles. They're an effective way to promote your business to potential customers who see your vehicles on the road.
Creating effective print marketing in the digital age
The internet has drastically changed the way businesses advertise and market themselves. In the past, businesses would rely heavily on print marketing materials such as flyers, posters, and brochures to get their message out there. However, with the advent of social media and other digital marketing tools, print marketing has become less effective and less popular.
Despite this, print marketing can still be a valuable tool for businesses if used correctly. Here are some tips for creating effective print marketing in the digital age:
Use eye-catching visuals
One of the best ways to make your print marketing materials stand out is to use eye-catching visuals. This could include using bright colors, interesting fonts, and attractive photos or illustrations.
Keep it brief
With people's attention spans getting shorter and shorter, it's important to keep your print marketing materials concise. Get your point across quickly and clearly, without using too many words.
Make it personal
Print marketing allows you to be more personal and intimate than other forms of marketing, such as television or radio ads. Use this to your advantage by addressing your audience directly and using friendly and relatable language.
Use QR codes
QR codes are a great way to bridge the gap between print and digital marketing. You can use QR codes to link to your website, social media pages, or even specific landing pages. This allows you to track how many people interact with your print materials and see what kind of response you're getting.
Offer discounts or coupons
Another great way to get people to interact with your print marketing materials is to offer discounts or coupons. This incentive can be a powerful motivator for people to take notice of your materials and use them.
Be creative
With print marketing, you have a lot of freedom to be creative and experiment with different ideas. Don't be afraid to think outside the box and develop something unique to grab people's attention.
By following these tips, you can create effective print marketing materials to help your business stand out in the digital age.